The IRS is expanding their Identity Protection PIN program, formerly limited to confirmed victims of identity theft. Beginning in 2021, any taxpayer who can verify their identity may choose to opt in. We encourage you to take this extra step to secure your SSN against fraudulent federal returns.
What is an Identity Protection PIN?
An Identity Protection PIN (IP PIN) is a six-digit number that prevents someone else from filing a tax return using your Social Security number. The IP PIN is known only to you and the IRS and helps verify your identity when you file your electronic or paper tax return.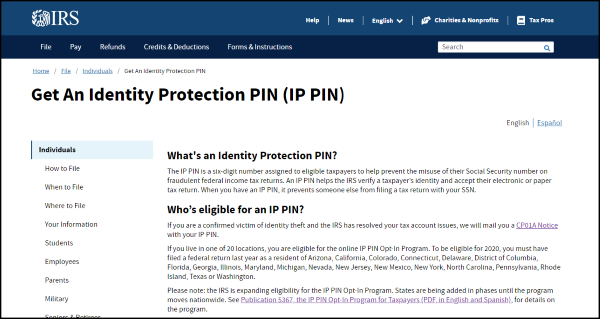 After signing up for an IP PIN, you will be issued a new PIN each January by mail to be used on any federal returns submitted that calendar year. You can also retrieve your annual PIN after mid-January each year from your IRS Secure Access Account. You will need to provide this PIN to your trusted tax preparer.
Create an online account
You can request an IP PIN through an IRS Secure Access account. If you do not already have an account, verification takes about 15 minutes and will require a financial account number linked to your name and SSN.

You will need:
An email address
Your Social Security Number or ITIN
Your filing status and address from your most recent filed tax return
An account number from a personal account (such as a credit card, student loan, mortgage loan or HELOC, or auto loan)
Any Experian credit freezes temporarily lifted
A mobile device that can receive text messages and is associated with your name (if unavailable, activation code will be sent by mail)
For more information and other methods of registering, visit the IRS Secure Access page.